https://www.justgiving.com/campaign/Mustardseedsongs-RisenChristCentralChapel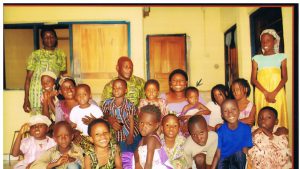 On the death of his Grandfather (his father had already died) Patrick Oki was about to become Chief of his village in Nigeria. However the Elders wanted him to denounce his Christian faith and return to the native religion which had been practiced before his Grandfather was Chief; this included human sacrifice. When he refused his life was in danger and so he sought asylum in England. It was in Haslar Detention Centre, Gosport that Mustard Seed Songs Founder and Trustee Ken Shearsmith first met Patrick some ten years ago. Unfortunately his asylum claim was rejected and he was deported to Nigeria where he had to re locate a long way from his village to stay safe.
Patrick told Ken that when he returned from England he was ill for two years, not being able to walk or even stand; having been rejected and abandoned by his family and friends- he was left to die, with no one to care for him except his son Emmanuel. Sometimes they had no food to eat, and he even prayed for God to take his life- all this because he had denounced the religious tradition of his people to follow Jesus. Patrick says I made a vow that if the Lord healed me I would serve him all the rest of my life and one day the Lord sent a servant Evangelist Lady Lizbeth who prayerfully joined hands with me and the Lord set me free. Praise the Lord I became born again to the glory of God.
Patrick is now indeed serving God as an unpaid Pastor in Cross River State, Southern Nigeria. His congregation is, at present worshiping in a hired hall and is looking after a number of orphans. Mustard Seed Songs has been working hard to bring them hope and joy by funding the building of their very own church which is named after Mustard Seeds musical Risen! – The Risen Christ Central Chapel. The featured pics show how the building work has progressed over the last two years.
Mustard Seed Songs are so thankful to the wonderful Portsmouth Gospel Choir for supporting its campaign – Mustard Seed of Faith is a track taken from their EP How Great Are His Signs
It is Pastor Patrick's favourite song