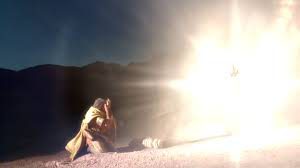 Father Help Me Acknowledge You – featuring Lucy Stimpson- Maynard from the album I Look Up To The Heavens recorded and produced by John Hodginson
So my last two blogs have focused on the way that England cricketer Ben Stokes has turned his life around. Last week I said that this made me think who else in history has turned their lives completely around – there are of course countless people but one in particular comes to mind – Saul of Tarsus who we read of in the Book of The Acts of the Apostles (which incidentally is what the sequel to Risen! The Musical is based on.) I then promised I would share how we portray in song Saul's conversion on the road to Damascus. So here it is – perhaps first I should explain that the musical has the story of the Acts of the Apostles told through its writer, Luke speaking to Theophilus who is likely to have been a Roman official and Luke's Patron.
Luke: Spoken
So the Gospel cannot be stopped- it spreads far and wide like wildfire – one apostle named Paul is blazing a trail – preaching the good news of Jesus
He's founding churches everywhere – in Ephesus, Corinth and Philippi, Thessalonica, Colossae, and Galatia -Theophilus, Paul is Spirit inspired.
Theophilus: Spoken
Paul- who is Paul?
Luke: Spoken
Paul is …. remember the man who stood by – who condoned Stephen being stoned to death
Theophilus: Spoken
Saul!!
Saul is Paul!!
Luke : Spoken
Yes- let me explain –
Sung
As you can see Saul is still full of rage – but all of that is now about to change – he is walking the Damascus road – and look who he is about to behold!
Saul: Sung
Damascus I am nearly there – I'll jail everyone that should dare -dare follow the Way.
Voice of Jesus:
Saul – Saul-why do persecute me?
Saul:
Who are you, Lord?
Voice of Jesus:
I am Jesus, whom you are persecuting, now get up and go into the city and you will be told what to do.
Saul : Sung
A flash of light has pieced my soul
Searching the very depths of me
A flash of light has made me blind
But my sin I clearly see
Jesus You called my name
I am overcome with shame
Thought I was a zealous Jew
But I was persecuting You
Travellers with Saul: Sung
A light shines all around
Yes we can hear a sound
But do not understand
What has happened to this man
A light shines all around
Yes we can hear a sound
But do not understand
What has happened to this man
To Damascus we will lead him by the hand
Luke: Sung
Now a believer named Ananias has had a vision from the Lord who has told him he is the one to restore the sight of Saul. Ananias is reluctant but the Lord says of this man "He is my chosen instrument -now on him place your hands. To Gentiles and their Kings – before the people of Israel Saul will carry my Name for this is my will. "
Luke: spoken:
So Ananias lays hands on him and says – Brother Saul- the Lord Jesus who appeared to you on the road to Damascus has sent me so that you may see again and be filled with the Holy Spirit – then immediately something like scales fall from Saul's eyes and he sees again. He gets up, eats, regains his strength and is baptised.
So there we are -just a flavour of Acts- The Musical!
Quote of the week
In our Father's presence, out greatest problems turn into possibilities
Selwyn Hughes Every Day With Jesus