Marnus Lasuschagne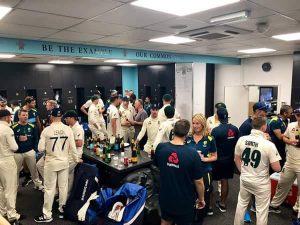 England and Australian cricketers enjoying a beer together after the
Ashes Series
Lean One Me (Bill Withers) featuring the Mustard Seed Soul Band from
the album Heart and Soul recorded and produced by Ross Gill
So the Ashes ended 2 wins each with one draw  but with the Australians retaining the "Urn" https://en.wikipedia.org/wiki/The_Ashes_urn as they were already holders.  In recent blogs I have talked about the English crickete,r Ben Stokes  and I suppose to be fair I should now mention an Australian player. I expect most would think I would choose  Steve Smith who batted so incredibly well, however instead I have instead chosen to highlight the player who stepped in for Smith when he suffered concussion after being hit by the English fast bowler, Jofra Archer – Marnus  Labuschagne.
I have to say I did not really take to him, mainly because he un expectantly played so well but mainly because he chewed gum so irritatingly – he chewed so much that one could say that he "chewed for England" – if he was not Australian!
When I did a bit of research on him I was surprised to discover that he originated from South Africa ( I thought it was just English cricketers that did that – e.g. Andrew Strauss, Jonathan Trott, Kevin Pietersen, Sam and Tom Curran.)
Anyway here is an extract from Wikipedia – As you read it you will see the part with which I was most surprised and delighted:
Marnus was born in Klerksdorp, in South Africa's North West province, to South African parents. His family emigrated to Australia in 2004 when he was 10, after his father gained work in the mining industry, and Labuschagne attended school in Brisbane. He grew up speaking Afrikaans, and only became fluent in English after moving to Australia.   Marnus  made his debut for Queensland during the 2014–15 Sheffield Shield season. He also plays for the Brisbane Heat. He made his Test debut for the Australian national team in October 2018. In August 2019, he was the first cricketer to become a concussion substitute in a Test match replacing Steve Smith
Marnus is a committed Christian and was brought up in a Christian household; however, he committed to his faith aged 17. On his faith, Marnus says, "Sport is a fickle game and injuries play a big part. In the big scheme of things, what you're worth, what you put your value in, isn't out there on the pitch; it's internal and in Christ… cricket is always going to be up and down and if you have [Jesus Christ as] a constant in your life, it makes life a lot easier.
The Ashes was really well fought – hard and I believe in the main pretty fair – I was chuffed to see the featured photo of both teams at the end enjoying a beer together.
Quote of the week
You have enemies? Good. That means you've stood up for something, sometime in your life.
Winston Churchill