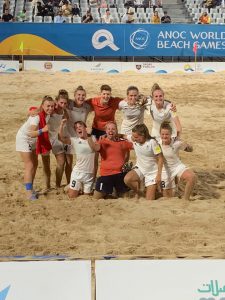 Team GB after beating Brazil 6- 5 in the World Cup Beach Soccer semi- final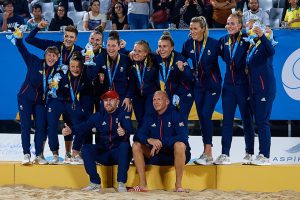 Team GB with their silver medals as runners up to Spain in 2- 3 final
"Living It Up" featuring the Mustard Seed Soul Band from the album "Heart and Soul" recorded and produced by Ross Gill
First an apology for last week – it is Hannah Haughton and not Houghton and it is Beach Soccer not Beach football.
So Team GB were runners up to Spain losing 2-3 in the Women's World Cup Beach Soccer Final in Qatar having the great honour of winning silver medals.
They first beat Paraguay, USA and Russia to then meet Brazil in the semi-final who they beat 6- 5. Team GB came back from being 3 goals down with a goal from Gemma Hillier leading the come -back. With two seconds left of the game, Brazil were awarded a free-kick but goalkeeper Hannah Haughton kept her composure and made a stunning save tipping the ball over the bar.
Team captain, Sarah Kempson added: "I am absolutely buzzing, we have learnt that no matter what happens, if you're one goal down or three goals down you are still in the game. You've just got to keep your head and believe you can win."
The World Beach Games was set up to give athletes the opportunity to profile their sport to younger audiences.
The Great Britain team, run by the British Olympic Association, sent 20 athletes to the Games.
The event is being run by the Association of National Olympic Committee as the Olympic movement continues to undergo a revamp in a bid to rejuvenate the Games.
It is hoped multi-sport events like the World Beach Games can provide athletes with the opportunity to profile their sport to global and younger audiences.
The sport is set to be included in the Olympic programme for the first time at the Paris 2024 Games.
Last blog I wrote of how chuffed my wife Caroline and I were to see two people that we had mentored/taught go on to such great things. I then likened this to how Jesus must have felt about the way His disciples carried on His message so devotedly. But of course the disciples had a great deal of help – but more of that next week.
Quote of the week.
Enjoy where you are on the way to where you are going
The Word for Today