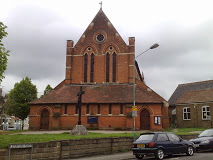 St Barnabas Church, Gillingham Kent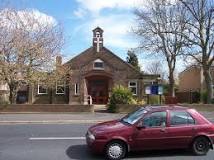 St Francis Church, Hilsea, Portsmouth

If I Say I Love You Jesus featuring Lucy Stimpson_Maynard from the album "Precious" recorded and produced by Ross Gill
I have explained that we are, at present, working on the sequel to Risen! The Musical, which has a working title of Acts- The Musical. Phase One is completed and in early January Joffy Girling, our musical Director, and actor Alex Knox will be recording the guide vocals to Phase Two which will, in fact complete the whole show.
In the first phase of Acts- The Musical the main character is Peter – with other characters also featuring such as Simon the Sorcerer, Stephen the first martyr and Philip the Evangelist. In the second phase the main character is Paul (previously called Saul) Another important character is Barnabas which reminded me that it was St Barnabas Church in Gillingham, Kent where I grew up that gave me my first experience of "church." What actually happened was that two of my school friends, Edward and Keith Glover persuaded me to have a "trial" at the church to become a choir boy – the incentive was that if you got selected you got paid! I remember my trial so well – I suppose I was about 8-9 years old and after walking the 20 mins to the church I met the church organist. My "trial" was that he played a note on the organ and then asked me to sing the appropriate note – I did not have a clue – I just hit a note out of my head which was probably so far out in pitch that it was embarrassing but in those days I looked quite cute so I somehow passed my "trial" and got fitted out with a blue choristers' gown and white ruffle collar. I was supposed to go regularly to choir practices but did not – I was supposed to go regularly to the church services but did not – so when it got to the time when the "money" was handed out I think I got about six pence. I also did not really understand what the Vicar was on about when he said from his pulpit that Jesus died on the cross to save us from our sins. I also did not understand, because I did not attend many choir practices, how to sing the Magnificat or Benedictus- I just made it up as I went along or quite often simply mimed. I remember the services lasting what seemed like eternity, however I did enjoy joining the Boy Scout Cubs which was attached to the church – it was there that I learnt the difference between a reef knot and a granny knot (most useful as one ties securely and the other doesn't *) Fortunately I was saved from it all when my dad moved work to Portsmouth which is where I found a much less formal church in St Francis where I also became a Boy Scout Cub. It was also from St Francis that I eventually went to confirmation classes and was confirmed by the Bishop at St Marys Church, Fratton.
Anyway next week (Boxing Day) I will share with you some information about St Barnabas- but one thing I can tell you now is that Barnabas means Son of Encouragement and in Acts -The Musical there is a scene in which Barnabas encourages the disciples to not fear Saul who, although having persecuted them is now a changed man after meeting the Risen Christ on the road to Damascus.
Here is the song- I have used the melody from today's featured song "If I Say I Love You Jesus."
If Saul Comes To Meet Us
If Saul comes to meet us,
Will you still fear his name?
Will you ask how dare he show his face
How can he feel no shame?
And if he promises he loves Jesus,
Will you say how can this be?
He's the one who threw our friends in jail,
We are his sworn enemy.
And if he insists he has seen Jesus,
Will you stare in disbelief?
Will you laugh – spit in his face.
Put it down as pure conceit?
And if he says he is now Christ's servant.
He is now Christ's very own.
Will you accuse him of blasphemy?
Who will throw the first stone?
I know his change,
Seems so very strange,
But I know it's true,
The change is for the good,
No passing phase, but for good,
One foe lost – won by the cross
So please trust and accept him,
As your dear brother in Christ,
He is God's chosen instrument,
And on this I stake my life
And if I may say one more thing
Jesus died for us all
My friends that means you and I
And that means … even Saul…
Quote of the week
In prosperity our friends know us- in adversity we know our friends
John Churton Collins
*
The reef knot is commonly taught as left over right, tuck under then right over left, tuck under. The granny knot is the first step repeated twice, left over right, tuck under then left over right again.