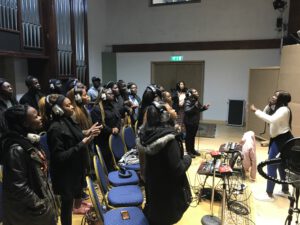 Heavilyn Sarpong conducting the Portsmouth Gospel Choir recording at Challow Park
I was so very chuffed when my very good friend, Pastor Darren Bovis- Coulter, asked if he could use "How Great Are His Signs" for Limbrick Wood Baptist Church's teaching series from the Book of Daniel.
The song has been used in three different formats. The first was as a chorus for a song written during a very difficult time for Caroline, my wife and me. It was called "Allow His Loving Arms" and was sung by Ross Gill for the Mustard Seed album "The Season of Singing." The lyrics of the verse were inspired by a card sent by a friend to express her condolences. The chorus I took from the Book of Daniel.
Allow His loving arms to wrap around you,
Know His heart has been broken too,
And in the darkest night of doubt and pain,
Let Him comfort you- just whisper His Name.
For great are His signs,
And mighty His wonders,
His Kingdom's eternal,
And His dominion endures,
For He is the Living God,
He rescues and saves,
He comforts and heals,
And in Him we can trust.
I always thought that the chorus could stand alone and could be made more "anthem" like and so Joffy our MD and I used it for Risen! The Musical. Here it is sung by the disciple Thomas with the song building over four choruses as more and more of the Risen! cast join in.
Heavilyn Sarpong, from The Portsmouth Gospel Choir, and I were looking at songs that could be "gospelised" for a EP to support the work of Mustard Seed Songs in building a church in Southern Nigeria- "How Great" was an obvious selection. The arrangement by Joffy, Heavilyn and David Ohene- Akrasi is, I hope you agree, wonderful. It was recorded by 29 members of the Portsmouth Gospel Choir and produced by joffyjamesaudio at the Challow Park Studios (see featured pic.)
Quote of the week
He is no fool who gives what he cannot keep, to gain what he cannot lose.
Jim Elliot