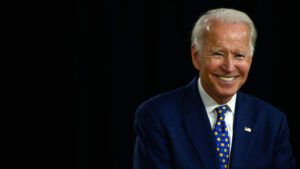 Father Let Your Spirit Fall Upon Me featuring Lucy Stimpson Maynard from the album I Look Up To The Heavens recorded and produced by John Hodgkinson
Referring to the vastly different views expressed for the Democrat and Republican candidates for the USA Presidential Election, a friend wisely said "Beautiful Christian hearts abide on both sides of the aisle, but equally, each can be blind to its own biases." So, I am not wishing here to discuss the merits or de merits of either side but just to take some extracts from what I have read re Joe Biden's faith.
President Elect, Joe Biden is a practicing Roman Catholic and will be the second Catholic President of the United States. The first was President John F. Kennedy,
Biden was raised in an Irish-Catholic family and has said that his faith helped get him through tragedies, such as losing his son, Beau Biden, to brain cancer in 2015. He said the Catholic rituals gave him an enormous sense of solace.
He also says "My faith implores me to embrace a preferential option for the poor and, as President, I will do everything in my power to fight poverty and build a future that moves us closer to our highest ideals—not only that all women and men are created equal in the eyes of God, but that they are treated equally by their fellow man. Jesus Christ is the human embodiment of what God wanted us to do. Everything Jesus did was sort of consistent with what generically we were supposed to do: treat people with dignity.
However, in 2012 he admitted that he struggled with anger at God after his first wife and his daughter were killed in a car wreck in 1972, He said he would get angry at God and think there was just no way that God could possibly be good. He said that he understood why some people turned to suicide, not because they were crazy, but because "they had been to the top of the mountain, and they just knew in their heart they would never get there again."
Following Beau Biden's death at 46, Biden's wife, Jill also struggled with her faith, writing in her memoir: "Where I once felt that peace that surpasses understanding, I now feel hollow silence. One day, I hope I can salvage my faith." She later said that she did find her faith again. She said a woman came up to her in South Carolina at church when she and Biden were campaigning and asked to be her prayer partner. She said that woman helped give her back her faith.
Biden says that his faith has kept him grounded "and humbled in times of triumph and joy." He said his faith provided him comfort and taught him to love his neighbours. "My faith teaches me to care for the least among us."
When Biden was young, he briefly considered becoming a priest. He was a student at Holy Rosary parochial school and Archmere Academy. Biden usually attends Mass at St. Joseph on the Brandywine Church or St. Patrick's Church in the Diocese of Wilmington. He is known to carry rosary beads in his pocket on the campaign trail.
Quote of the week
God will meet you where you are in order to take you where He wants you to go.
Tony Evans