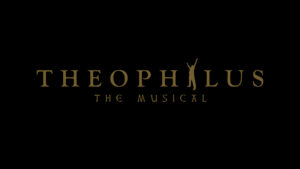 Last blog I said "Mustard Seed Songs' first musical was "His Story," the second "Risen! The Musical" and we are working on our third musical right now- it was originally titled "Acts The Musical" but has recently been retitled "Theophilus-The Musical"…. but more of that next week."
So here we are this week introducing "Theophilus The Musical" aka "Acts -The Musical." This musical has been over 5 years in the making – of course fully supported by the amazing skills of our MD, Joffy Girling.
My old mate Darren Bovis-Coulter had designed the fantastic logo and so we are now definitely "Theophilus The Musical" rather than "Acts the Musical" – this is very important as the musical is not just a re-enactment of the Acts of the Apostles but also a journey of faith of Theophilus, with whom we have taken poetic licence, portraying him as symbolic of members of the audience, themselves on journeys of faith.
"Amazing Love," one of the songs from "Theophilus The Musical," is featured today, beautifully sung by West End and Broadway actor, Edward Baker- Duly, performing  the part of Luke.
Quote of the week
The best thing about the future is that it comes only one day at a time.
Abraham Lincoln