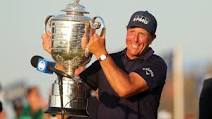 "The Day of Pentecost" an extract from Theophilus- The Musical
Regular followers of this blog know that I love to write of famous and successful sportspersons who are Christians- this week it is the turn of Phil Mickelson who last week won the US PGA Championship- at aged 50 becoming the oldest player in history to win a Major.
Here are some of his career facts and figures:
Philip is nicknamed "Lefty" and has won 45 events on the PGA Tour, including six major championships: three Masters titles (2004, 2006, 2010), two PGA Championships (2005, 2021) and one Open Championship (2013).
Mickelson is one of 12 players in the history of golf to win three of the four majors. He has won every major except the U.S. Open, in which he has finished runner-up a record six times.
Mickelson has spent over 25 consecutive years in the top 50 of the Official World Golf Ranking. He has spent over 700 weeks in the top 10, has reached a career-high world ranking of No. 2 several times and is a life member of the PGA Tour. Although naturally right-handed, he is known for his left-handed swing, having learned it by mirroring his right-handed father's swing. He was inducted into the World Golf Hall of Fame in 2012.
Phil is a self-proclaimed Christian who has spoken openly in public about his Christian faith and how it has changed over his lifetime. In an article on The Gospel Project, Mickelson touches on the subject of feeling the emotional burden of living up to the Christian standards. He claims that Christianity is ultimately what has helped him find joy in his life and truly appreciate all that he has accomplished in his golfing career. He attributes his attitude to golf on his belief structure.
The featured song is an extract from our forthcoming "Theophilus- The Musical" celebrating the Day of Pentecost which as last Sunday, May 23rd
Quote of the week