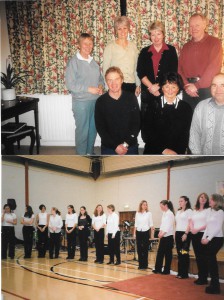 Merilyn – Christian Edwards (Back 2nd from left )  with Mustard Seed Home Group
Mustard Seed Girls Choir prepare to sing "Great and Marvellous" at 2000 Millennium concert at Crofton Community Centre

"Great and Marvellous" featuring Lucy Stimpson and The Mustard Seed Girls' Choir at Millennium Concert, Crofton Community Centre
The pop songs I had made up "converted" into enough Christian songs to complete our first album "I Look up to the Heavens" and also a lot for our second album "Love is the Way."  When I had ran out of pop songs to convert I thought that was it – but no, something remarkable happened- I  was  sat down in my lounge reading the Book of Revelation and in Chapter 15 it said
"Great and Marvellous are Your deeds Lord God Almighty. Just and true are Your ways King of the Ages" and a tune came into my head- the words continue "Who will not fear You, bring glory to Your Name? For You alone are Holy. All nations will come and worship You, for Your righteous acts have been revealed.  You Lord will reign." The tune in my head continued.  I really could not believe it, especially as I knew the tune was nice and melodic.
That evening I went to see Merilyn Christian- Edwards;  the wife of Michael,  the Holy Rood Vicar who had run the Alpha Course ( see blog April 3rd) Merilyn was leading a home group of people that had been on the Alpha Course – the home group was  called the Mustard Seeds;  same as  our charity.  I was already close to Merilyn and  earlier  had sought  her opinion on my  " converted songs"  I remember singing one to Merilyn  with her then disturbing Michael in his office (something you did not do when he was preparing a sermon!) and then me having to sing to him.  Michael said something like "We will have to support you in this."
Anyway I was in my car with Merilyn on the way to our Mustard Seed home group when I told her that I had made up a new song. After  singing "Great and Marvellous" to her in the car Merilyn said "That's from the Lord."  That was the start of God giving me songs – I suppose that so far there have been over 200.
It was decided that the churches of Stubbington should combine to produce a Millennium Concert and so as not to show any favouritism it was to be held on the "neutral ground" of The Crofton Community Centre's Sports Hall. Someone asked if I had a suitable song for the occasion and I immediately thought of "Great and Marvellous."  Nicola and Fiona Poustie were still at Crofton School  and part of Lucy Stimpson- Maynard's School Choir that doubled up in our concerts as the Mustard Seed Girls' Choir. Nicola and Fiona went on to front the Mustard Seed Soul Band in future concerts and in our musical "His Story." They both have an amazing gift for harmony and worked out a harmony for "Great and Marvellous."  I remember them doing this after- school one day in Crofton School's Music Room Two.
So in 2000, or it may still have just been 1999 "Great and Marvellous" was performed unaccompanied by the Mustard Seed Girls' Choir with Lucy singing the first verse. Unbeknown to me my colleague at school, Neale Gordon was recording the singing on his minidisk.  Although the acoustics in the Sports Hall were not good the recording came out remarkably well. John Hodgkinson processed it in his studio and it ended up being the last track on our second album "Love is the Way." It is this week's featured song.
In our forthcoming musical Risen! I have used some melodies from previous albums for some recitative.  The tune to "Great and Marvellous" is used when Jesus proclaims to His followers on a mountain in Galilee (Matthew 28) that "All authority in heaven and earth has been given to me- So go make disciples of all men, go and baptise them." This "Great Commission" finishes with what I would say are the most reassuring words every spoken "Surely I am with you always, even to the end of the age."
So "Great and Marvellous" became the last track on our second album "Love is the Way." "Love is the Way" was reviewed in a Christian music publication called "Cross Rhythms" and next blog I'll tell you what was said.