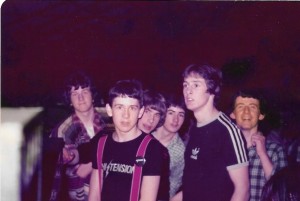 Winning Basketball Team at "The Tube" – left to right  Ian Glover, Lee Addelly (Hiscock) Graham Thomas, Paul Cummings, Dave Chance and Martin Fuge.
"One in a Million" featuring Lucy Stimpson Maynard                                                             lyrics Jimmie Guyman and Ken Shearsmith
As I said in my last blog I loved teaching PE at Crofton School. For most of my career OFSTED Inspections did not exist and there was no GCSE PE.  So my performance as a teacher was assessed pretty much by the results of our school teams. Although for the first two years at Crofton we had no field (as it was full of flints – see blog Feb 20th) we still trained at Stubbington Recreation Ground, focusing on playing two- touch football, and eventually won the Gosport and Fareham Cup.  About 15 years later we won the Hampshire Cup (not with the same team!)   We also won the Hampshire Cricket Cup, which was a particularly amazing achievement as it is normally the province of private schools.
But it was in Basketball that we had our most successes.  When I arrived at Crofton in 1975 the school had just opened on the Marks Road site.  The staff consisted of Mr Boulton as Head with Mr Bradley and Mrs Hartley as Deputy Heads. Mr White was Head of Department for Maths, Mr Taylor, English,  Miss Simmonds,  RE (not Mr Mill believe it or not- he joined Crofton a few years later ) Mr Mitchell for Science, Mr Wickett for Technology and me for PE    The First Year entry had been temporarily accommodated in 1974  at Crofton Hammond Junior School so when I joined, the school had only Year 7 and 8s (then called Year 1 and 2) Mrs Jan Davies had been in charge of PE while  the school was at Hammond  so it was, in fact her and not me  who was the first PE teacher of Crofton School.
So to get myself established I felt I had to produce winning teams, but there was no field and only the indoor facility of a gymnasium. So what sport could we get good at with just a gym? Gymnastics was out of the question as my own personal performance was limited to a headstand, headstand, forward and backward roll and on a good day a neck spring- and once or twice in my life a hand spring – off the floor I hasten to add!
I was a wimp in Volleyball as it hurt my hands when "digging" so that was out -Badminton did not cater for enough pupils so it had to be Basketball. The problem was I had hardly played the game-  I had always been told at school that I was not tall enough (see blog Feb 13th)  However  I was fortunate enough to know some American Basketball players (friends of friends) such as Jimmie Guymon, Paul Stimpson and Mark Saiers.  From them  I learnt how to coach  the "USA way "and was able to teach our students techniques that only the Americans knew, such as the spin dribble.
The School Caretaker, Mr Ron Stevens would open the gym when he arrived at school at 6.30 am and players would arrive that early and practice most mornings for a couple of hours. I later discovered that at the weekends "break ins" would occur with some boys practicing all day and then even staying the night!   As you can imagine they got really good but Hayling Island School always beat us. That is until the last game of the team's final year at school when we met them in the S.E Hants Finals held on neutral ground at Warblington School. We took a coach load of supporters and the atmosphere was electric and yes we won, beating Hayling in our very last game. I brought the Cup home and later that night presented it to the team at the "Tube" Disco as in featured pic.  That was a night I will never forget – after four years eventually beating our great rivals in our final game – brilliant. By the way to Hayling's great credit they lost with good grace.
Martin Fuge who played in that game was on the edge of the England team and Paul Cummings played National League for Solent Stars but our first international player was Peter Wort who represented the England Basketball U15 team.  So Basketball became a tradition at Crofton and we had many boys and girls playing for SE Hants and SE England. We won the prestigious Hampshire Cup twice and were usually around the top in the local leagues. We also travelled to places like Durham in the National Cup. Great times!
For many years Crofton used a system for Tutor Groups which included two "accelerated" classes – that is two of the Tutor Groups were comprised exclusively of pupils who would have gone to Grammar Schools if Grammar Schools had not been replaced with Comprehensives. For many years I did not have a Tutor Group- I had been given that time to arrange fixtures. I could not get away with that forever though and eventually became a Tutor of an accelerated Tutor Group, surprisingly called 1S! I had many Tutor Groups during my Crofton career and I really enjoyed each one. However the first one was always going to be extra special and it is to that Tutor group that the pupils and staff of Crofton owe "The Prom" And I'll tell you all about that in the next blog of March 13th
I have chosen a song recorded by Lucy Stimpson Maynard but one that is not on any Mustard Seed CD.  It was written specifically for Jimmie Guymon – Jimmie was destined to play in the NBA, the greatest league in the world, but got struck down really ill with Jaundice (the yellow poison in the song) . When he recovered he came to England and became what most believe  to be the best player ever to play in this  country.  This song "One in a Million" is, I think, the only song that has been recorded that is not overtly Christian.  It tells of Jimmie's dream to play in the NBA and to be the one in a million who makes it. I adapted the lyrics from the words of a poem Jimmie wrote about his dream.