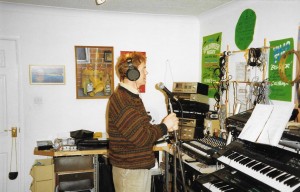 "Recording "Don't Lose Sight of My Shore"
"Don't Lose Sight Of My Shore" featuring Louise Rednapp and Cole – arrangement John "Hodge" Hodgkinson
First some apologies. The tutor group that started the "Prom" was not in fact my first tutor group. I had earlier inherited a tutor group from Miss Sue Jones when they were in Year 3 (Year 9) So my apologies to Julie Toomer was Windsor, Kevin Vass and all the rest of that class. Apologies also to Miss Jones who I forgot to say,  in blog of March 6,th, was the original Music Teacher.  I have also had other great tutor groups-  the one which included Si Cook and Nikki Miller, the one which included Kate Russell and Rich Martin – (Ricky Martin who won The Apprentice 2013 ) The  tutor group which included Rachel Vardy and Aaron Beale and my last one which included Ali Tut and Chloe Hawksey.
Also apologies to all the sports teams that I have not yet mentioned such as the Hampshire Basketball Winners which included James Shearsmith, Zaine Brookes and Alex Adams. The Hampshire Basketball Cup Runners up which included Chris Shearsmith, Simon Shields  and Andy Wilkinson. The National Cup Basketball stars who included Matt Ancell, Nigel Kershaw and Mark Sandford. The Hampshire Cup Football winners which included Jon McTernan, Neil McRoberts and Andy Davis.
I feel I also should take this opportunity to put the record straight to admit that I did leave one of my tutor group up the Eiffel Tower during a weekend trip to Paris.  It was however an initiative test which he passed with flying colours. He managed to communicate to a friendly  Gendarme "Je suis perdu et mon Professeur est un idiot"  and the friendly Gendarme got us reunited at our next port of call which might have been The Louvre or some other small Parisian attraction! No mobile phones in those days by the way.
My son Chris and Jez Field passed a similar initiative test when I left them at Gatwick Airport after returning from a trip to U.S.A.  I realised they were missing when we were about 30 minutes from  eaching Stubbington. The coach driver did not mind turning around at all (not!) I am sure Chris and Jez stayed calm knowing that we would return (eventually.) Jez's mum did speak to me again but I think it took about ten years.
So with all this going on at school the music took a backseat until one day I went for a meal at the home of Mrs Jan Davies and her husband Barry.  Jan was the first PE teacher at Crofton, having started a year earlier than me when the school was housed in the temporary accommodation at Crofton Hammond.  Jan had twin boys Tudor and Alun.  Tudor was really into music (he now works for the BBC Sound Department) and had a keyboard in his bedroom.  I left the adults downstairs drinking coffee (which is a pet hate of mine) and went to chat to Tudor.  He played me some stuff on his keyboard and I hesitantly asked if he could play something if I sang it to him (apologising profusely about my voice of course) I sang him a new song I had made up "Don't Lose Sight of My Shore"  Again not the happiest of lyrics – "When you start your journey tonight , have to leave my arms once more, please don't forget all that's been said don't lose sight of my shore. Stay in touch with my touch, let my emotions still soar, keep my hand within reach, don't lose sight of my shore"
To hear him play the melody back, which up to then I had only heard in my head, was utterly amazing.  He then played "If Love Had Never Died" and some of the other songs I had made up. I went home buzzing.
Next day I went to see my mate John Hodgkinson (Mr Hodge) who was Crofton's Head of Science and also a brilliant musician, in fact he played in a band with Tudor – "Trilogy." When I told John what had happened the night before he said " I can do that. My nickname is Xerox–  I can copy anything. "  Sing me your song." "No way"   I said whilst secretly hoping he would persist- which he did. So that break -time I sang to John "Don't Lose Sight of my Shore" which continued" For we made magic held each other spellbound but our love was no illusion just the truth that we both found"
John was quiet when I had finished and then said" We had better record that- come over to my place – I have a recording studio"  And that's what happened.  We then got a girl in my tutor group Louise Rednapp to record  a somewhat better version than my effort and later we decided that it worked better as a duet so we added the voice of a guy called Cole who was lead singer in another band that Tudor played in -"Yellow Cab"
And  then we sent it off to record companies and believe it or not  we got a  phone call from a record company that had produced a big hit – "I love Rock and Roll" by Joan  Jett and the Blackhearts. They said they wanted to use "Don't lose sight of my Shore" for their Eurovision Song Contest Entry – Fame at last ? – I'll tell you in next week's blog.