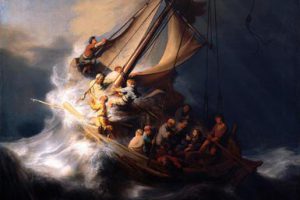 The Storm on the Sea of Galilee by Rembrandt

"Allow His Loving Arms"- featuring Ross Gill recorded by Ross Gill from the album The Season of Singing
Just putting the question of is there a conflict between science and Christianity on hold for a week as the Shearsmith family have been going through very difficult times recently and I am sure we are not alone.
Gareth Benton of Kings Church, Portsmouth said the other week that when we are in a storm, Jesus either stills the storm or stays close by guiding and helping us through the storm. My family can testify that He has been with us helping us through the storm.
These reassuring words from Isaiah 41:10 are very special to me. They were said over me by Mr Mill's father when I renewed my Baptism vows at Holy Rood church on 18th May 1997 (see blog April 17th 2014 ) and I read them out when Caroline, my wife was baptised in the Solent on September 4th 2011
So do not fear for I am with you
Do not be dismayed for I am your God
I will strengthen you and help you
I will uphold you with my righteous right hand.
I wrote "Allow His Loving Arms" during another desperately difficult time in our lives and I thought it appropriate to feature the song again this week.